Battery Services
in Pampa, TX
Come to Country Toyota in Pampa, TX When Your Vehicle Needs Battery Service Near Skellytown, TX
Toyota cars, trucks, minivans, and SUVs are designed to keep going -- in fact, Toyota vehicles are known to be among the longest-lasting on the road. Of course, to get you where you need to go, your vehicle needs to be able to start. The car battery plays a vital part in this. When you press the ignition button or turn the key in the ignition, the battery will send a jolt of electricity to the starter, which then turns over the engine. At Country Toyota, we will be glad to help you keep your Toyota's battery in good condition. Find out more about the battery services we offer here, and then come to Country Toyota, serving Skellytown and White Deer, Texas.
What Makes Country Toyota the Right Choice for Battery Service?
When you come to Country Toyota, you will be bringing your Toyota to a service center that truly understands your vehicle's needs. Our prices are competitive, and regularly updated service coupons help you save even more on important services like oil changes. The technicians in our service center are certified experts who will use Toyota tools and Toyota-approved parts when they perform any service on your vehicle. While you wait, you can enjoy our comfortable customer lounge, or take advantage of alternate transportation.
Battery Test and Inspection
Even though it's much bigger and more powerful, your car battery isn't too different from any other rechargeable battery. It starts off holding an immense amount of power, but it will slowly lose its ability to hold as much of a charge over time. For a while, this is hard to notice, since the battery will still hold enough to start your engine several times. But as time goes on, the battery will eventually have difficulty starting your engine even once -- and then it may die altogether.
Learn More
Battery Replacement
When you're ready for a new battery, come to Country Toyota. Our technicians will remove the old battery and dispose of it properly, replacing it with a brand new Toyota-approved battery.
Learn More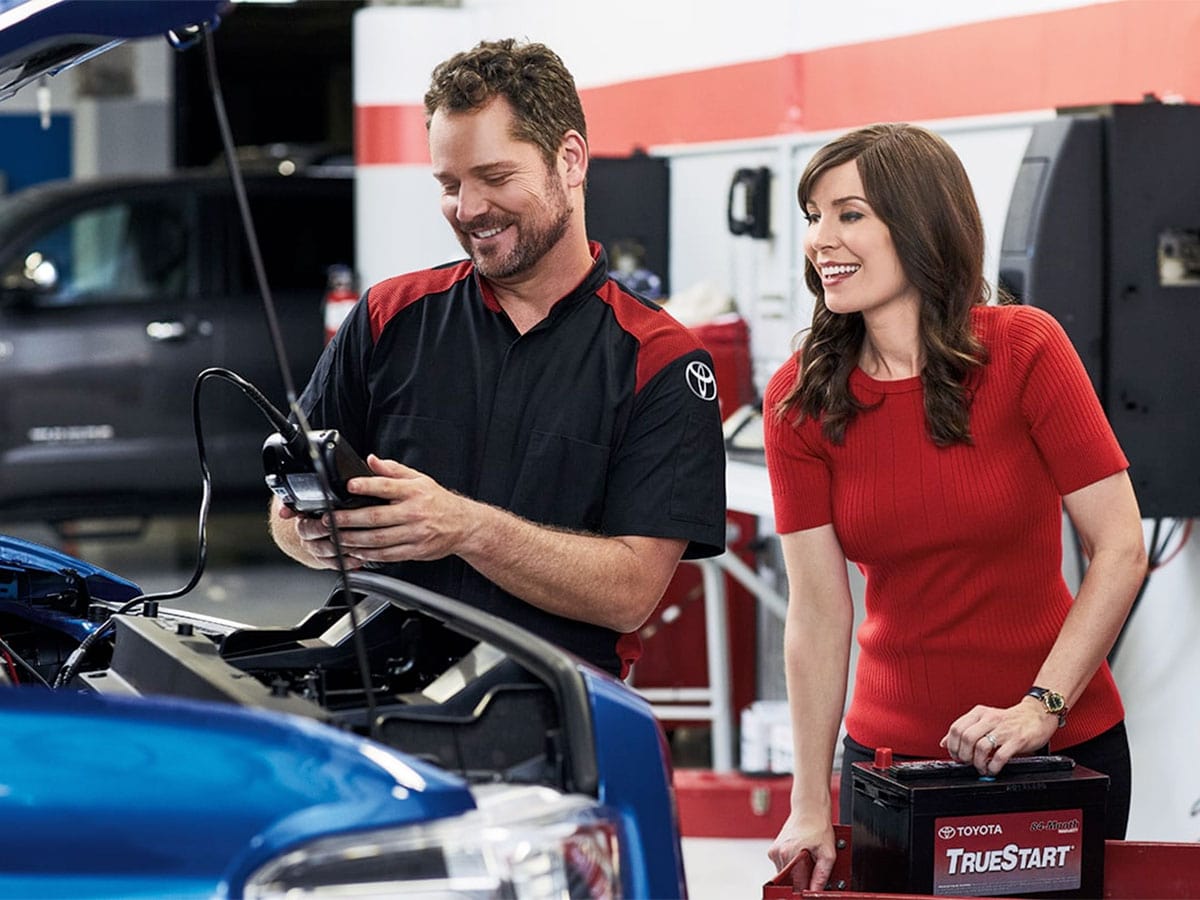 Schedule Battery Service at Country Toyota, Serving Lefors and Miami, TX
When the time comes for battery service, schedule your service appointment online or give us a call. Then, come to have your battery taken care of at Country Toyota!
Schedule Service